Dan Buechel: "What's life without a little humor?"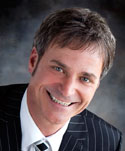 Dan is a Master of proportion, seeing things in a different scale than the rest of us. His passion for design has led him to creating unimaginable spaces that fit individual styles. Dan's ability to select pieces, fabrics and colors based on your design taste is uncanny. He is the designer you will partner up with to create the space of your dreams and then invite to your house-warming party once your vision has turned to a reality.
He has over 20 years of experience with a Degree in Interior Design. He travels near and far and collaborates with all size of projects. Dan is very honored to partner up with you to create a living space you love.