Dan Buechel: "What's life without a little humor?"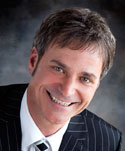 Dan is the guy you'll want to invite to your house-warming party after he's finished decorating every room of your home. He's that enthusiastic about creating living spaces (note, we didn't say "showrooms") that are artful, flexible and a reflection of you. He's as contemporary as a black-and-white design scheme, yet savvy enough to run with what you love. Consider Exhibit A: He lives in a restored Georgian colonial home with contemporary finishes throughout. Ask him to select pieces and fabrics and colors based on your design taste and he's right there. It's an uncanny skill and either you have it or you don't. Dan has it.
He's also a master of proportion, seeing things in a different scale than the rest of us. And his trademark sense of humor shows up in some pretty whimsical pieces that ultimately make the room. If he weren't an interior designer, it would be easy to imagine him as an art gallery dealer in New York or Chicago.
Dan holds a degree in interior design. But it's his natural way of piecing together the elements of human nature and design that makes him a stand-out in his field.